RMDC Laghubitta Bittiya Sanstha Limited is a class D microfinance financial institution registered under the Banking and Financial Institutions Act, 2073 and licensed by Nepal Rastra Bank. The main objective of this financial institution, which has operations all over Nepal, is to provide soft loans to microfinance institutions and cooperatives as well as to help in the development of institutional capacity.
Since the central office of this organization is in Kathmandu and the branch offices in Kohalpur and Itahari need some support staff; Eligible eligible eligible Nepali citizens should fill in the application form of this financial institution along with a copy of their citizenship, copy of educational qualification certificate, copy of computer training certificate and copy of work experience letters and recently taken passport size photo within 30 days from the date of publication of this notice. This notice has been published so that the application can reach the central office of the organization.
The organization reserves the right to approve or reject all or any of the applications received or to cancel this advertisement.
Post: Assistant (Sahayak)
Required Number: Few
Type of service: Permanent
Location: Central Office, Kathmandu and Branch Offices, Itahari and Kohalpur
Minimum Educational Qualification: Proficiency Certificate (10+2) or Higher Secondary Level from a recognized University in Humanities or Commerce.
Age: Completed 18 years and not exceeding 35 years.
Job Description: Tasks to be done by the office assistant.
Types of exams: written and interview.
1) The application form can be obtained by downloading from the central office of this financial institution, Putalisadak, Kathmandu or from the website www.rmdcnepal.com.
2) When applying, the post applied for outside the envelope must be mentioned.
3) If any candidate has obtained educational qualification from an educational institution outside Nepal, he/she should attach a certified copy of the document related to the level and grade of his / her educational qualification from the concerned body along with the application.
4) Salary and facilities: will be as per the rules of the organization.
5) Candidates who have been shortlisted for the written examination or interview will have to pay the examination fee of Rs. 500 in cash.
6) Applications read by email will not be accepted.
7) The successful candidate can be assigned to any of his / her offices as per the requirements of the organization.
Contact Details:
RMDC Laghubitta Bittiya Sanstha Limited
Post Box No. 20389, Putalisadak, Kathmandu
Phone: 01-4168011, 01-4168010
Email: rmdc@rmdcnepal.com
Website: www.rmdcnepal.com
Vacancy Advertisement Published Date 2078-7-8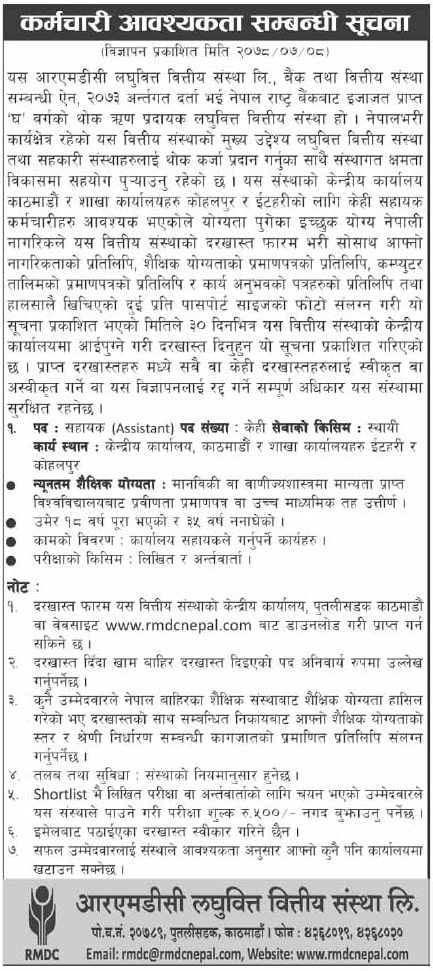 Jobs for Freshers Nepalgunj Dharan Laghubitta Banking Career Job Vacancy Kathmandu Banking Job
Leave a comment