Ministry of Health, Bagmati Pradesh Vacancy for Health and Engineering Service: Government of Bagmati Province, Ministry of Health, Hetauda, ​​Nepal: Due to the need to enroll in contract service in the approved temporary posts for various programs of the Ministry of Health; This information has been published by the eligible Nepali citizens to submit the application to this Ministry within 15 days from the date of publication of this information along with the documents to be attached with the application and the voucher of revenue paid.
Vacancy Details:
| | | | |
| --- | --- | --- | --- |
| Position | Level | Req. No. | Application Fee (Rs.) |
| Homeopathy Physician | 8th | 1 | 1000 |
| Nursing Program Officer | 7th | 1 | 1000 |
| Civil Engineer | 7th | 1 | 1000 |
Selection Basis: Interview Process (Interview, Work Experience, Minimum Qualification Category, and Training)
Age limit of candidate: 21 years completed and not exceeding 45 years for Advertisement No. 1 / 2078-79 and 2 / 078-79 and not exceeding 21 years for Advertising No. 3 / 2078-79 and not exceeding 35 years.
Documents to be attached with the application:
A) A copy of the certificate of minimum educational qualification,
B) Copy of Nepali citizenship certificate,
C) A copy of the certificate registered with the concerned council,
D) Copy of character certificate,
E) Copy of work experience and training documents and certificate.
Application Fee: Account no. 1000200010000 of Rastriya Banijya Bank of Pradesh Lekha Niyantran Karyalaya. Code No. 3500832013 of the Ministry of Health, Revenue Title No. 14224 examination fee should be submitted under the title and the voucher should be submitted along with the application.
Application Form: This can be downloaded from the Ministry's website www.moh.bagamati.gov.np.
Date of Interview: Later it will be published on the website and notice board of the Ministry.
Place of submission of application: The office may submit the application to the Administration Branch of the Ministry within the time.
For more information, you can contact the Ministry on 057-524836.
Published date: 2078-12-14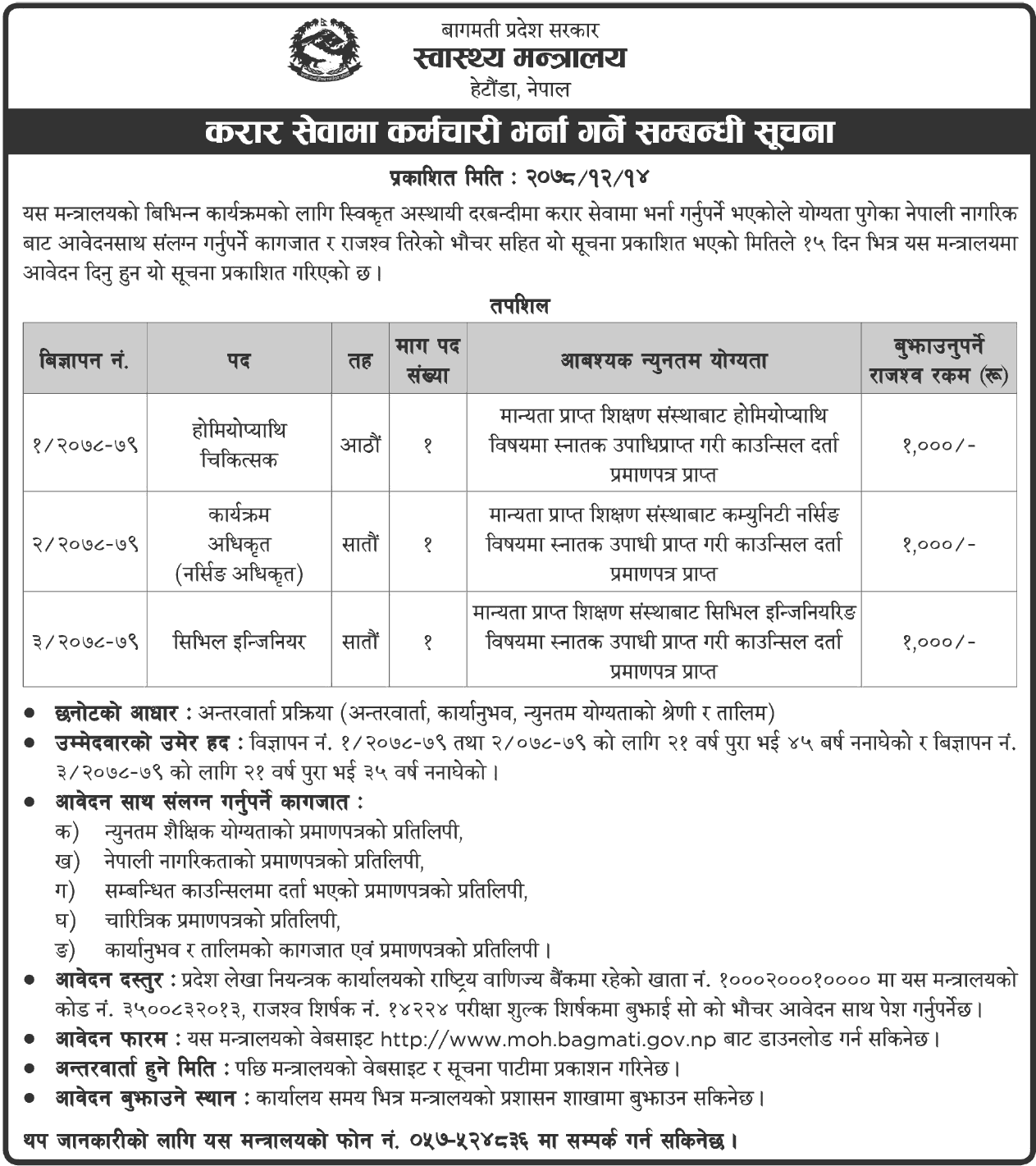 Leave a comment